The Paradigm Award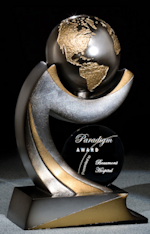 The Paradigm Award was created to honor hospitals that have gone above and beyond in their efforts to foster efficient labor practices without resorting to workforce reductions or dramatic top-down mandates. Knowing how difficult this is, The Paradigm Award was commissioned to encourage the recognition and celebration of institutions who consistently try to balance the often contradictory needs of their three main constituencies:
Their patients
Their staff
Their need to remain financially viable
The Paradigm Award is presented to hospitals that have made the greatest measurable strides in improving labor efficiency. The award is conferred during a press conference organized by the recipient's foundation where:
The organizations accomplishments are detailed,
A national press release is launched,
The award is conferred
Celebration support material bearing the Paradigm logo are provided
And a cash award of $10,000 is presented to the hospital foundation.
Good Samritan Hospital… [Nov 29th '10]
HUDSON, Fla., Nov. 26, 2010 /PRNewswire/ -- The Paradigm Award Committee (www.paradigmaward.org… More…
WRX Launches Hospital … [Apr 16th '09]
(Hospitals target the disease, not the symptoms) HUDSON, Fla., April 16 /PRNewswire/ -- Wo… More…
WRX Expands Nationally… [Mar 5th '09]
HUDSON, Fla., March 6 /PRNewswire/ -- Workforce Prescriptions ("WRX") announced on Frid… More…
Helpful Links